Introduction
At the start of 2020, virtual healthcare was on the rise. However, the unprecedented impact of COVID-19 has ushered in more reasons for virtual care to grow. By the end of 2020, virtual healthcare visits are expected to top 1 billion, according to Forrester Research. Specifically, coronavirus-related virtual visits are estimated to top 900 million in 2020, while general medical care visits could top 200 million as reported by CNBC.
Virtual care is undoubtedly going to be the new normal, even after we've discovered a cure for the coronavirus. In this article, we'll cover trends before coronavirus, how the virus has impacted virtual care, and which use cases and applications are seeing the highest growth.
Virtual Healthcare Before COVID-19
Before the coronavirus pandemic, virtual healthcare was expected to change in several ways; most importantly, care settings outside the home were becoming increasingly common. In-patient treatment was on the decline for a variety of factors: the consumer desire to avoid hospitals, a shift to lower-cost treatments, regulations, rising healthcare costs, and advances in technology. Additionally, telemedicine is expected to grow to more than $66 billion by 2021, according to Medical Alert Advice. In-home medical device applications that allowed for direct communication with patients (and other direct to consumer models), were also on the rise.
There are two ways hospitals and care providers are shifting away from inpatient care: 1) virtual options to help patients and to better manage emergency departments, and 2) resources to reduce in-patient visits for certain populations, such as those with chronic conditions.
Teleparamedicine was also becoming more commonplace. For example, for emergency situations where time was a crucial factor, such as strokes, virtual healthcare solutions were being used so that paramedics could help with these emergencies as they happen.
Cybersecurity was also a priority because virtual healthcare platforms needed to encrypt confidential data to meet compliance standards and privacy regulations. In addition, healthcare networks were often targeted by cybercriminals
Similarly to other industries, artificial intelligence (AI) is also on the rise. In particular, AI in healthcare helps translate data into medical insights that, in part, help predict the likelihoods of diseases and early prevention actions.
How COVID-19 is Impacting Hospitals and Virtual Care
Because of shelter-in-place during coronavirus, fewer people are going into hospitals, and instead electing for virtual care. This issue and other factors are impacting hospital revenue while growing virtual care.
Hospital Revenue Impacts
Coronavirus regulations have impacted hospital visits as people are following shelter in place orders and fear for their health. As a result, hospital revenue has dropped by $1.4 billion per day. Plus, over 100 hospitals nationwide are furloughing employees, as reported by Rev Cycle Intelligence. Many rural hospitals have been facing closure, just as rural counties are feeling the effects of the coronavirus.Clearly the hospital economy is going to be affected by the coronavirus from years to come.
Virtual Healthcare Impacts
In part, because of the impact coronavirus is having on hospitals, virtual healthcare is growing faster than initially expected for this year. The primary reason for these new government initiatives is allowing for higher accessibility. The Centers for Medicare and Medicaid Services (CMS) has implemented new funding to allow for the broader applications of virtual healthcare. For instance, the Department of Health and Human Services has allowed video conferencing to be used for medical consultation. After President Trump spoke about the benefits of digital healthcare, March telemedicine visits surged by 50%, according to CNBC.
The high volume of virtual healthcare patient experiences has highlighted the benefits of the practice to consumers. For instance, one of its benefits is increased accessibility and decreased costs. However, it has also made the lack of digital transformation in healthcare evident. Drug development outside of COVID-19, for example, has ground to a halt because drug studies are largely in person and often paper-based.
Going forward, virtual healthcare will likely become the new normal. As more coronavirus patients get dispatched, virtual healthcare will be needed to monitor patient recovery remotely.
Digital Growth
Sectors with Virtual Care Growth
Even during coronavirus, primary care is seeing the most growth in the virtual care world, as it does not require specialized tests. Long-term conditions, such as diabetes, hypertension, and asthma, are also seeing growth. While demand and awareness for online mental health services are high, the area is currently not seeing significant increase. However, the behavioral health epidemic will probably last longer than COVID-19. Therefore, it is believed that growth in that sector will come afterward.
Examples of Virtual Health Apps
Before COVID-19, seven out of ten adults were using health apps to track at least one health indicator. Here are some virtual health apps on the market that cater to the sectors of growth we are seeing.
Health Cloud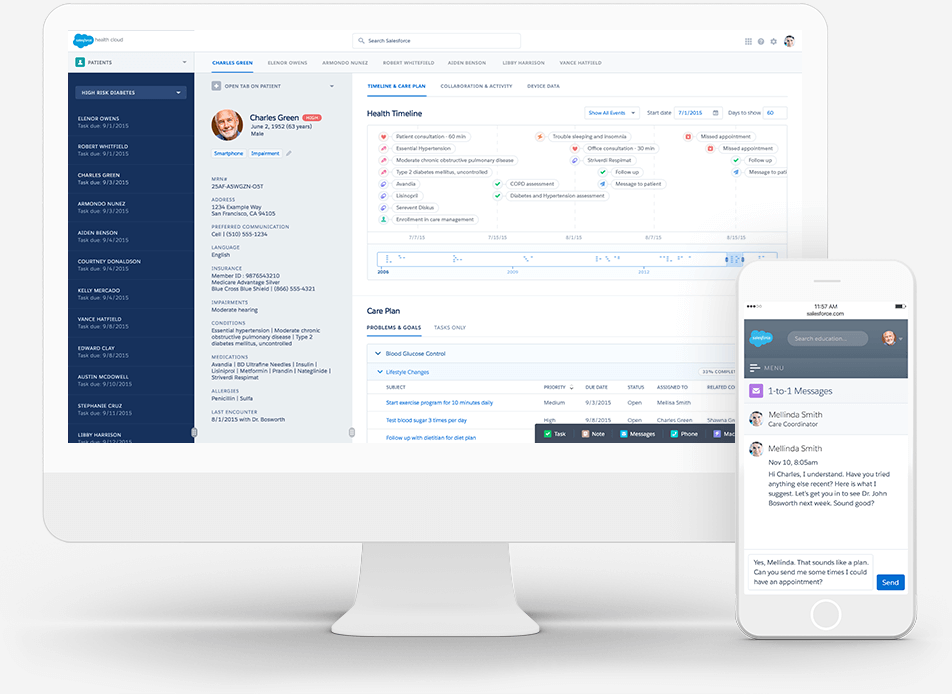 Health Cloud is Salesforce's digital healthcare platform. Its solutions come from the belief that customized awareness and education for patients is essential, placing emphasis on one-on-one care and personalized treatment. For instance, Health Cloud aims to create better post-discharge care by combining relevant patient data from different sources (such as hospitals, care facilities, and homes) onto their platform. Health Cloud also identifies patients' individual needs to ensure they get the right medical care, as well as the right online experience for both their condition and age.
Hale Health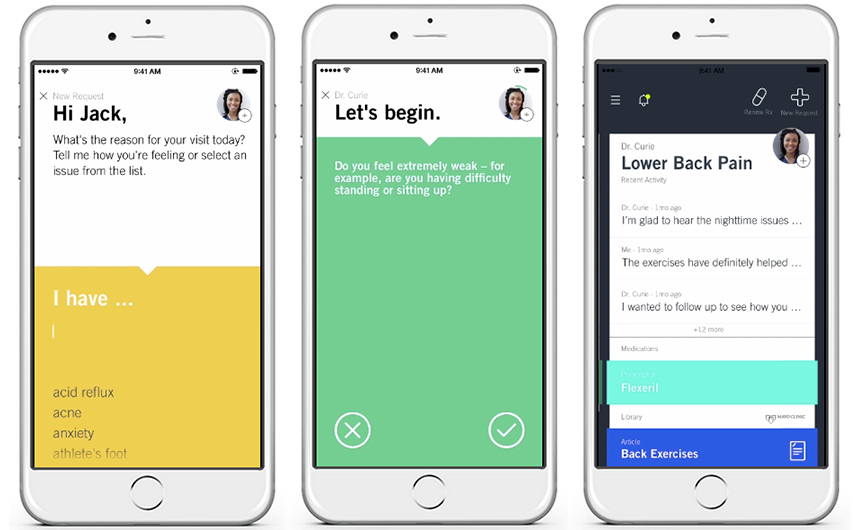 Hale Health is a remote care platform that aims to connect clinical teams and patients between visits. It handles all patient needs to ensure easy accessibility for a wide range of patients, while still prioritizing customized care for everyone. By using built-in tools with desktop and mobile devices alongside their patient and design-focused platform, Hale Health aims to provide a continuous connection between doctors and patients, even outside the clinic.
Livongo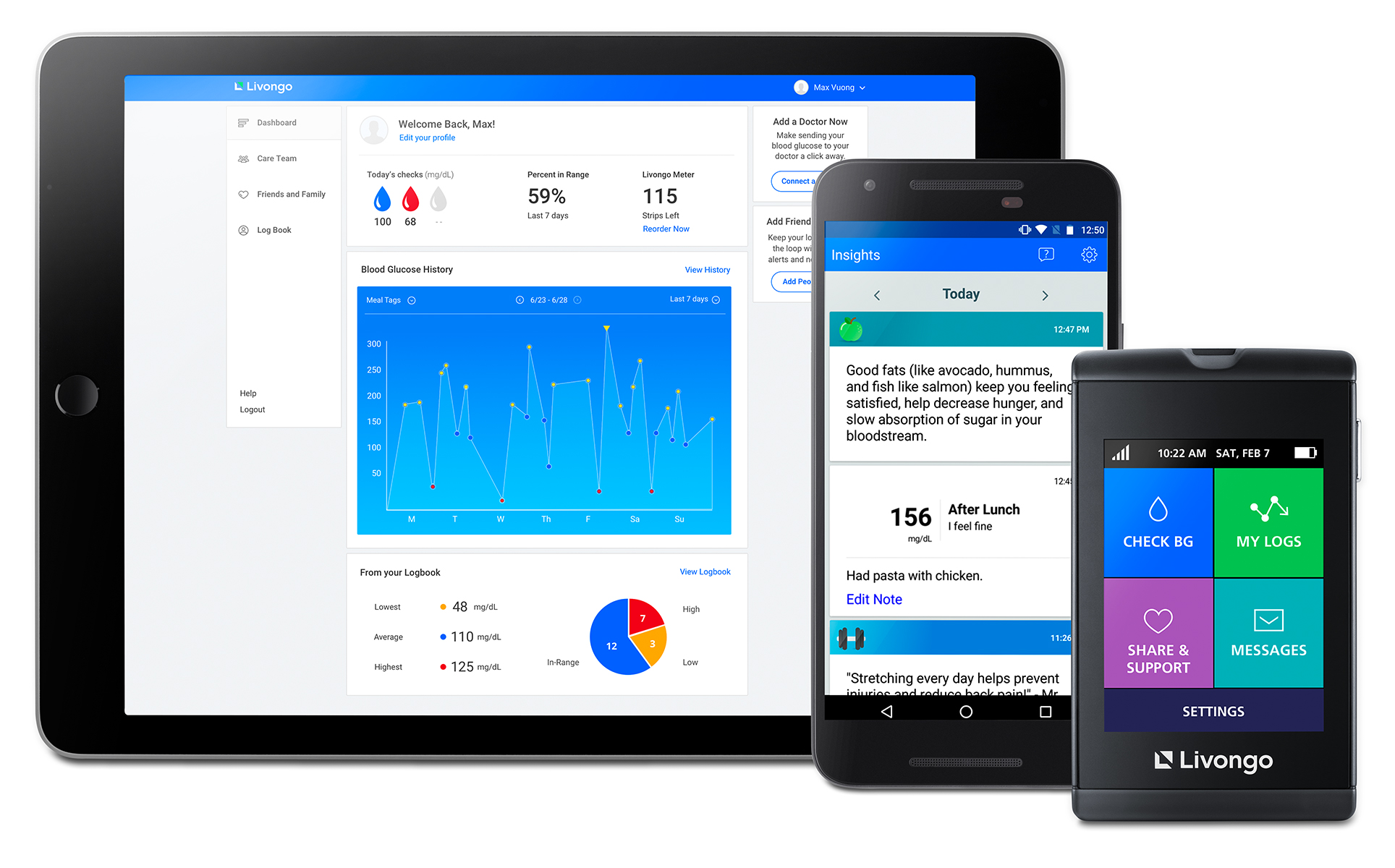 Livongo uses connected devices in conjunction with apps to help treat diabetes, diabetes prevention, hypertension, behavioral health, and weight management. With the devices, users can track areas such as blood glucose, blood pressure, and exercise while also getting information on the app about what this data means in terms of their health.
Omada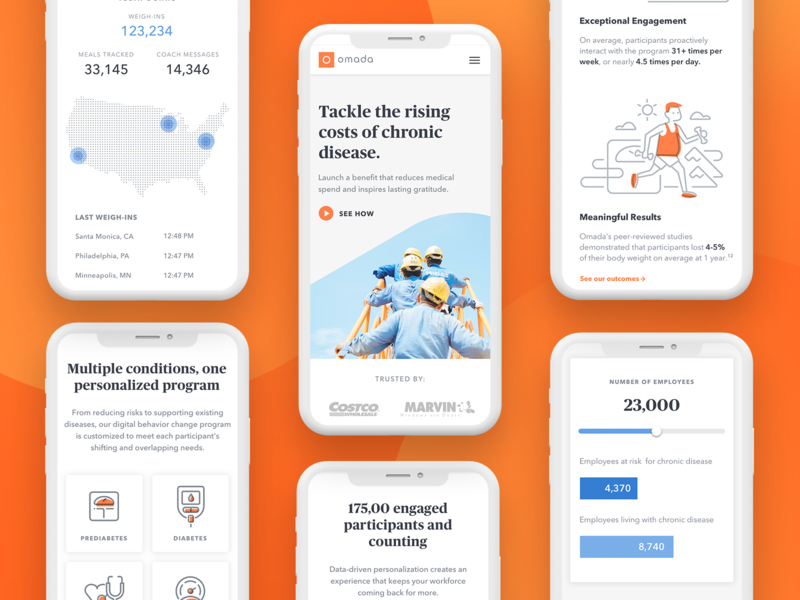 Much like Livongo, Omada is also a single platform with connected devices and an app to treat diabetes, diabetes prevention, hypertension, and behavioral health. While it also tracks patient conditions and translates that into information on the app, Omada also emphasizes community. The app matches members with a health coach. It also offers groups, messaging, and lessons so that members can connect with other users that share goals or health concerns.
Propeller Health
Propeller Health focuses on respiratory conditions such as asthma. It offers a sensor attached to an inhaler to deliver custom medication. This sensor works with their app to give users real-time insights to help understand what causes symptoms.
How Catalyst UX Can Help
If you have a medical device or virtual healthcare application you need to bring to market, let us know. We have developed digital solutions for hundreds of healthcare companies, and we'd love to work with you.