A Tale of Three Industries
There's no question that digital transformation will be a driving force in the 21st century, if it isn't already. Along with artificial intelligence, big data, and elastic cloud computing, the Internet of Things (IoT) is one of the four driving forces identified by Tom Siebel, American business man and author of Digital Transformation: Survive and Thrive in an Era of Mass Extinction. In fact, according to Forrester, last year 36 percent of enterprises were implementing or extending their IoT departments.
Given this growth, we wanted to unpack the user experience (UX) design implications and examples of IoT across three areas:
Connected home;
Connected devices in transportation; and
IoT in healthcare.
Overarching Considerations
Before we share examples, we wanted to briefly touch on three important IoT and design considerations.
The first has to do with the maturity of the technology you are working with. If, for example, the technology is outdated, you may need to make updates or plan around the current implementation.
Second, you need to consider the context of the situation and your user's expectations. For example, if the user is on a mobile phone, you may need to anticipate and deliver discrete actions with elegant design.
Last, you'll want to consider the complexity of your service—for example, how many devices the user has to interact with. With IoT, things can get complex quickly, but you will need to deliver a simple design nonetheless.
Connected Home Technology
Today people have become more inclined to let technology into their lives and homes. Devices running Amazon's Alexa or Google Home, for example, don't often get thought of as IoT, but they are. In fact, there is an entire ecosystem of devices that have emerged around these types of devices, such as smart light bulbs and home control solutions.
Nest: An Example of the Connected Home
While Nest got its start with the first-generation Learning Thermostat, today the company offers a family of products. The challenge now, from a design perspective, is that the functionality is distributed across multiple devices with different capabilities and form factors. Despite the differences in form factors, users need to feel as if they are using a coherent service rather than a set of disjointed user interfaces (UIs).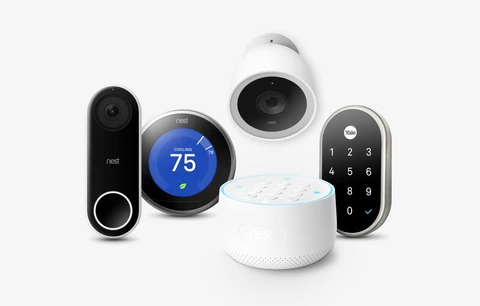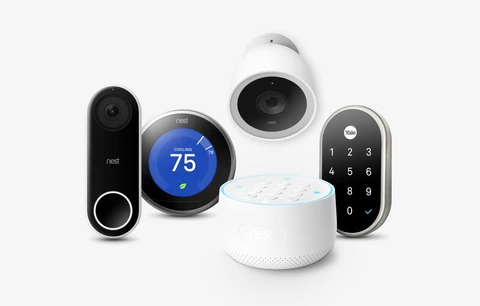 Connected Devices in Transportation
Hong Kong Octopus
With respect to transportation and IoT, we often think of Tesla. But smart travel cards such as the London Oyster and Hong Kong Octopus also help to illustrate the importance of a program that lives on another device on the network (i.e., a server). For example, the payment service connected to the Octopus may be more important than the device itself, as the service can be used even without a card via an NFC-enabled smartphone or bank card. Yet the delivery of that service still needs to hold up.
Tesla
With respect to Tesla, there is no question of the transformative impact the company is having in the automotive industry. Tesla has been able to unify and improve aspects of the driving experience, from its use of advanced sensors to real-time software updates and enhanced autopilot.
Yet some say that the UX design of its latest touch screen is too far ahead of where the market is and might not make sense. For example, the wide screen is very large and potentially distracting. Plus, so much is being put into this screen that requires more than one touch. "It doesn't take a UX designer or even a driving license, to understand that, while you're driving, every second you take your eyes off the road you expose yourself, your passengers and other people around you to a potentially fatal danger," according to this article.
This is an example of considering the user's surroundings and ability to effectively interact with the screen during the UX design process.
Data and Smart Parking
Networked, embedded devices allow us to capture data from the world that we didn't have before, and to use it to deliver better services to users. For example, drivers looking for parking spaces cause an estimated 30 percent of traffic congestion in US cities. Smart parking applications such as Streetline's Parker use sensors in parking spaces to track where spaces are free, for drivers to find via a mobile app.
IoT in Healthcare
As an industry, the healthcare sector lags behind sectors such as retail and tourism when it comes to digital innovation. Despite this, a new IDC report suggests that digital transformation initiatives in healthcare account for 30 percent of all innovations, including personalized medicine, telemedicine and M-Health developments. According to Accenture, 40 percent of US healthcare consumers now use digital technologies in all aspects of their daily lives or strive to do so.
Reducing Emergency Room Wait Times
Why is it that when you need a bed the most—in the emergency room—you can't get one? Well, Mount Sinai Medical Center in New York City, in conjunction with GE Healthcare, is changing all of that. The IoT-driven software known as AutoBed has effectively slashed wait times for 50 percent of their emergency room patients who are in need of inpatient care. The software achieves this by tracking occupancy of 1,200 units and factoring in 15 different metrics to assess the needs of individual patients.
Managing Chronic Disease: QuiO Cloud Platform
The QuiO cloud platform wirelessly connects various therapeutic devices related to medications, activity, and health for patients with chronic conditions. Healthcare providers and caregivers can access information on mobile devices and the web to follow trends and respond to insights. Patients can also get personalized tips on how to deal with their conditions and even participate in research studies.
Managing Refills
Now we can even manage medication dosage, reminders, and refills thanks to the AdhereTech Smart Pill Bottle. Patients use it as a normal pill bottle, except the Smart Pill Bottle automatically sends data to AdhereTech's HIPAA-compliant system where it is analyzed so as to send the proper message to the patient—reminders for missed doses or for refills.
According to a recent report by Avella specialty pharmacy, "AdhereTech has improved duration of therapy by 26%, fill rates by 9%, and dose-level adherence by 15%. On average, the AdhereTech program generates 1 to 2 additional fills of specialty medications, per patient per year."

Wearables and Spry Health
The Spry Loop device is a wearable that helps monitor key health indicators for people with chronic illnesses. The device monitors vital sign data and patient status via the cloud. Practitioners are able to gather actionable information to provide better care.
From a design perspective, the clean-lined device is easy to wear and use—so much so that 92% of users wear their device every day for 3 hours or more. And users find it easier to use than a mobile phone.
Closing
There is no shortage of UX design case studies and examples in IoT. And it seems clear that there are real business benefits to designing for digital transformation in IoT.
That said, even though the end product can look simple and clean, it takes a lot of work to get there. If you are interested in learning more about designing UX for IoT, or if you are launching new initiatives in the next three to six months, contact us. We have a lot of experience in this area and would welcome the opportunity to work with you.