Intro
Many mobile applications are meant for socializing, gaming, and entertainment. That being said, we have also seen mobile applications contribute to better experiences in healthcare and lifestyle. In this article, we'll talk about mobile applications that help improve people's lives and how those applications and digital companions are growing.
What is a Digital Companion?
A digital companion is a purpose-built mobile solution that leverages the Internet of Things to  complement aspects of a user's daily life. Unlike gaming, social media or productivity apps, digital companions are built to enhance a user's experience and improve outcomes in important areas.
Typically, digital companions are made to improve a more nuanced and intricate situation, such as a person's specific health condition. Often, digital companions leverage  artificial intelligence to customize the user's experience. For example, airline apps send a notification to passengers who have missed their flight with the steps to rebook. Because of this one-on-one connection and communication with users, digital companions often feel as if they have more of a personality. Through this kind of digital transformation, digital companions can change the overall effectiveness of the user experience.
Areas of Growth
Health
Apps emphasizing user experience are especially important for virtual healthcare. With the effects of COVID-19, it is clear that many aspects of healthcare are moving (and will continue to move) to a remote, digital platform. However, these services are not always person-to-person, and it can be difficult to build that trust. It is essential that healthcare applications provide a customized experience, both to cater to individuals' needs and to build a service that people of all age groups can connect with easily. Applications such as Omada use connected devices with their app to treat heart disease, diabetes, and weight loss. In particular, the Omada app creates community by connecting users with a specialist and offering group chats and events for people with similar conditions.
Many digital companions are also built to provide daily exercises to improve mental health and weight loss. For instance, wellness apps such as Calm and Headspace provide guided meditation and sleep therapy with customized profiles for each user. Similarly, apps such as Weight Watchers help users stick to dietary goals, sending both digital reminders and physical gifts as motivation.
School
Schools are increasingly implementing the use of digital companions for students to keep track of grades and assignments. Canvas, for example, is an app used by many schools. It allows students to submit assignments, view grades, and view assignments. Canvas can also send students specific notifications about due dates. As for teachers, Canvas can be used to give out grades, create assignments, and write specific feedback for students. Parents can also use Canvas to view their student's grades, set reminders for assignment due dates, and view any completed or missing assignments.
Home
Digital companions have been used to control home security and heating remotely. Google Nest offers many connected devices with digital companion apps, ranging from alarm systems, cameras, thermostats, and more. These devices can be controlled remotely via the app, so that homeowners can monitor or adjust the temperature of their homes, even when they aren't there. These kinds of connected home devices allow users to customize preferences, set timers, and more.
Travel
Connected devices are also commonly used for cars as well as the home. The Tesla app, for instance, allows Tesla owners to remotely control their car in a variety of ways, such as checking charging status, locating their vehicle, locking or unlocking their Tesla from afar, setting the thermostat prior to entering, and more. Additionally, if users need service, they can put in a request in the app, which then sends a certified service person to their location. Like other digital companions, the Tesla app is customized to a specific vehicle and has the ability to save user preferences.
As mentioned earlier, digital companion apps are often used for airlines. Apps like the American Airlines app give users personalized information and notifications about their flight status. If a user's flight is cancelled or delayed, the app will send a notification, along with a tentative flight rebooking that can be confirmed or denied. The app also offers other functions such as allowing users to view and change seats and flights if need be, along with issuing mobile boarding passes. With these functions, such airline apps create unique experiences for every user.
Case Studies: A Tale of Two Companions
Digital Transformation for Chronic Conditions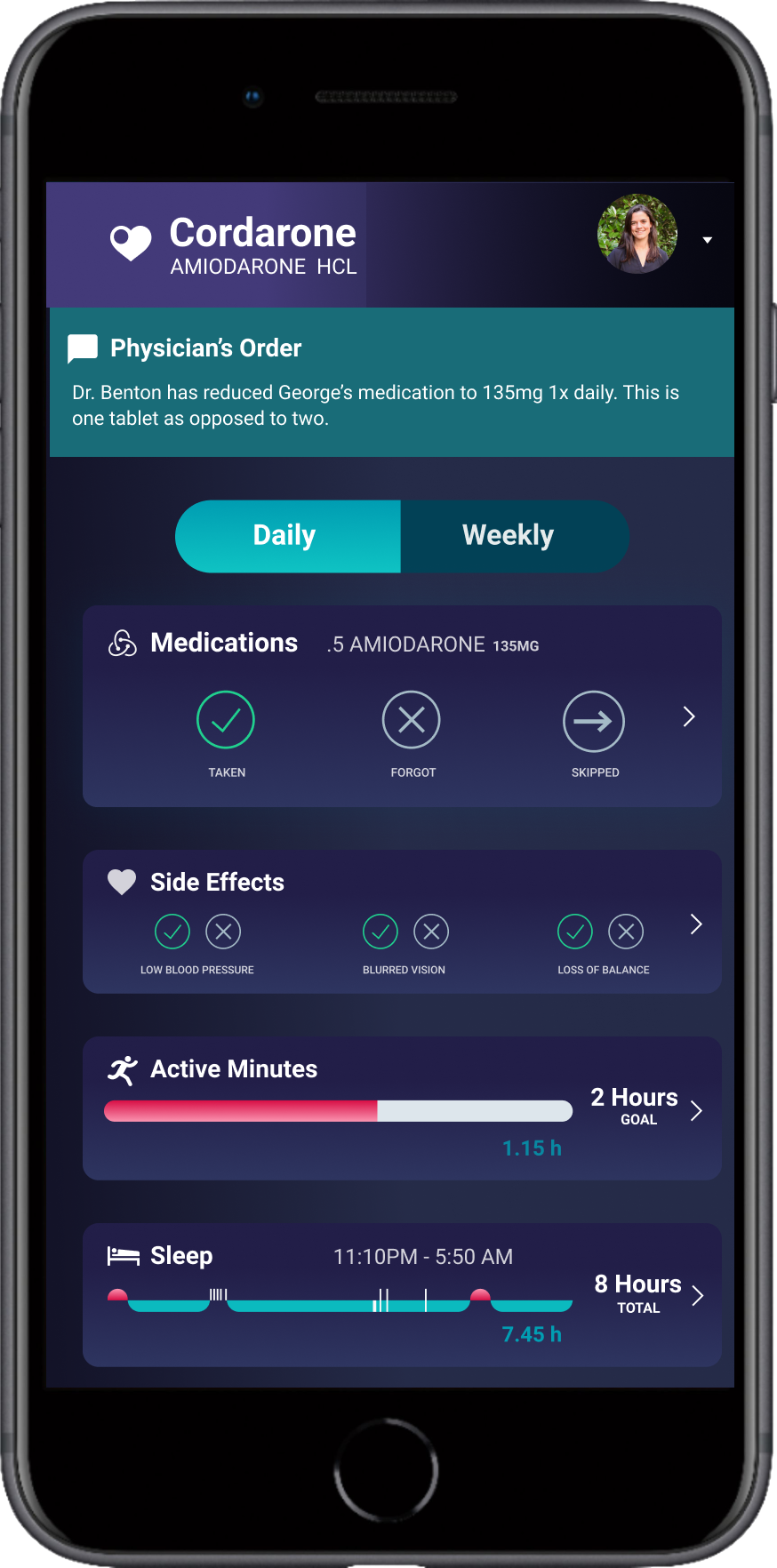 As leaders in the medical UX industry, we have seen an increase in digital transformation in healthcare applications. The focus has shifted to patient engagement with IoT connected devices. For instance, when a patient starts taking a new drug, there are steps one needs to take, from the initial evaluation, to starting the drug, and ultimately adhering to the treatment plan. With an IoT-connected device that helps measure drug adherence (as well as factors such as side effects, blood pressure and sleep), patients can have more connected conversations with physicians and caregivers, aiming to contribute to a better health outcome.
Digital Companion for Coronavirus Contact Tracing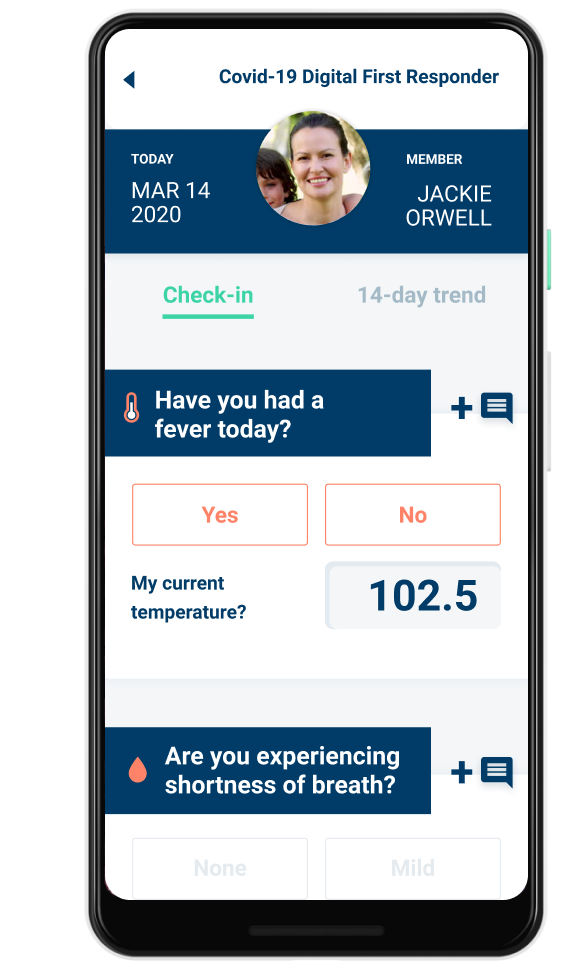 Our Digital Companion app is another such user-augmented application. Once schools and companies allow people back to their campuses, the Digital Companion will be a solution to keeping tabs on the coronavirus. It allows users to enter in data about any possible symptoms and their lifestyle habits to determine if a coronavirus test is needed. Catalyst UX's Digital Companion provides a digital solution for bringing students back to school and users back to the office in a safe manner. Learn more here.
Catalyst UX's Digital Companion
If you have a project in the next 3 to 6 months, contact us. We'll do a free design concept for you.